Timetable Publication Dates

Class 1A -
System Timetables

1
2
3
4
5
6
7
8
9
10
03-23-31
05-25-31
06-28-31
08-12-31
08-25-31
11-01-31
12-14-31 #6
01-01-32
02-15-32
04-20-32

More Century timetable covers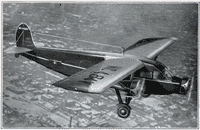 Stinson Tri-Motored 10-passenger Airplane used by Century Air Lines, Inc. Powered by Lycoming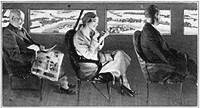 Heated Cabins, Well Ventilated
"The traveler will find Century planes unapproached for comfort. Cabins are kept at an even room temperature by a heating system developed especially by the Stinson Aircraft Corporation in conjunction with experienced air line operators. The perfected ventilation system provides a constant change of air making the cabin as comfortable, on the coldest day, as your fireside. Chair seats in the Stinson tri-motored planes used by Century are deeply cushioned with high upholstered backs and set sufficiently far apart to provide ample leg room."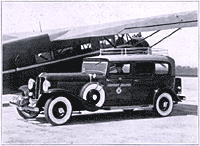 Ground Service in luxurious new Auburn cars
"In keeping with its superb service in the air, Century Air Lines provides luxurious new 7-passenger Auburn cars for its passenges to and from the airports. this service, pioneered by Century, is unapproached anywhere in the world. Manned by liveried chauffeurs, these limousine type cars reduce the Century traveler's time from his hotel to the airport or vice versa, and offers the luxury and comfort of a private automobile. This service is available in our terminal cities, - Chicago, Detroit, Toledo, Cleveland and St.Louis, at a nominal charge. Sufficient cars are always available to take care of all arrivals and departures. "